We arrived on the lake little after noon. The day was perfect-clear, sunny and with the slight breeze-a welcome relief for this moody spring weather. Jeremy skillfully navigated his boat toward shallow grass flats and undewater humps, searching for pike and elusive muskie. We were positioned upwind and started to cover the water methodically, varying our retrieves. When a good location was thoroughly covered, we would move to the next likely spot.
The water had a good smell, which reminded me of my happiest fishing days chasing striped bass in Boston Harbor. The salty tinge was lacking, but the fresh smell of grass and shoreline trees made up for it. Swallows were low, looking for insects, and a pair of grey herons flew up from the cattail field. I was fishing my retro-glass "warmwater-special", falling into its laid back rhythm, and teasing the red-yellow-white flatwing streamer, so that its long tail would sweep sideways. After several short strikes on the fly, I had a solid grab. Short glass rod was deeply bent, while the fish made a run straight toward the boat.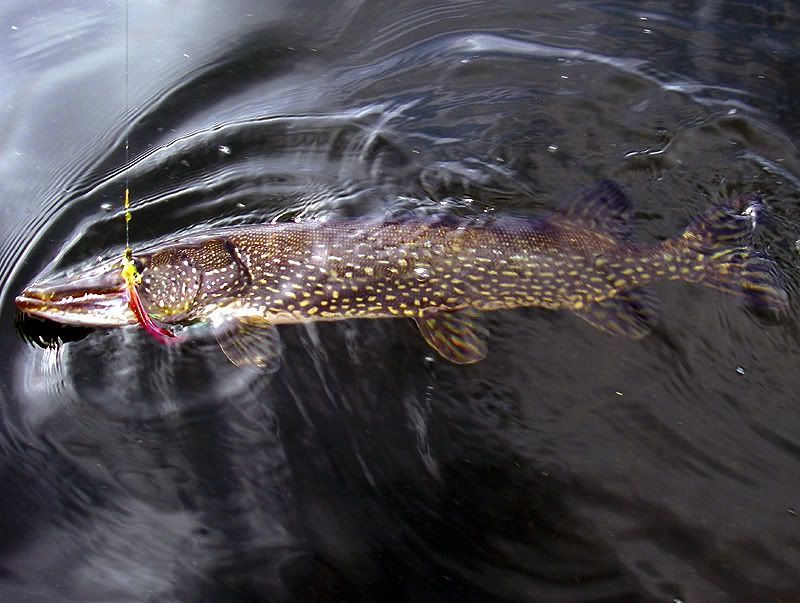 Despite of the knot which formed in the line after the fish took off in a hurry, and Jeremy helped untangle, the handsome and healthy first pike of the day was landed.
Soon after this fish, Jeremy landed another one and slowly but steadily, the action was unfolding. We would change the location and find quick action with short pause between takes, or pick another spot which could be devoid of fish. After dropping two consecutive fish on flashy ALF-perch imitation, I decided to switch to my trusty Loomis Megataper graphite and the intermediate line. We were fishing slightly deeper water, and with the steady breeze, intermediate line was a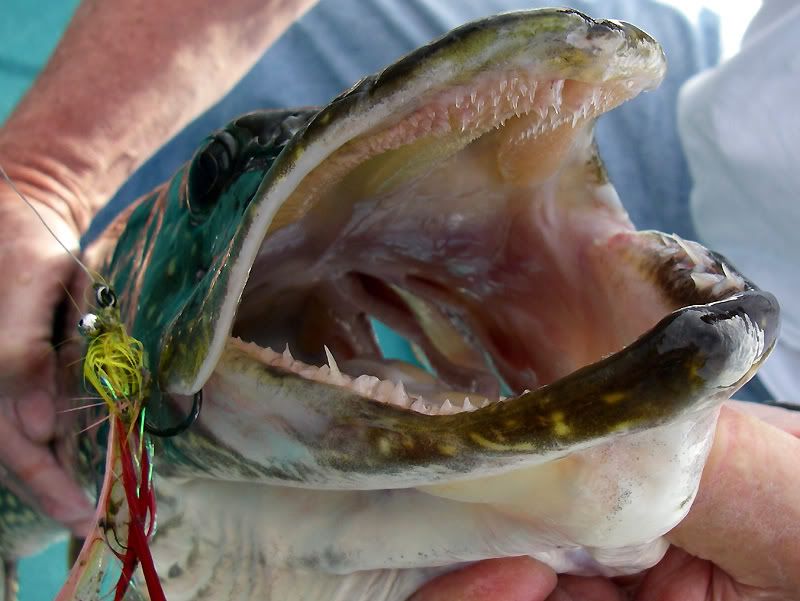 better choice for achieving consistently deeper and straighter fly path. The line change proved to be a good choice, since it resulted in renewed action for both of us. We both got some fish who would run straight to the boat after feeling the hook. One flat showcased a magnificent muskie, who was obviously spooked by our presence, but confidently swam slowly under our boat.
Soon after, I tied to a fish who seriously strained my rod. It felt like a serious oponent-we both thought it could be a muskie, since it would not move too much, but felt like incredible weight at the end of my line. After changing several angles, I felt it moving, and started reeling in. It proved to be a smaller pike who ran so deep into weeds and logged itself into it.
We finished the day on the beautiful weedbed flat, where Jeremy hooked and landed a powerful fish. The richly colored pike smashed his big red streamer and gave out a spectacular fight, thrashing madly on the surface. Looking at each other, while approaching the boat landing, we said almost at the same time: "It was a good day!"