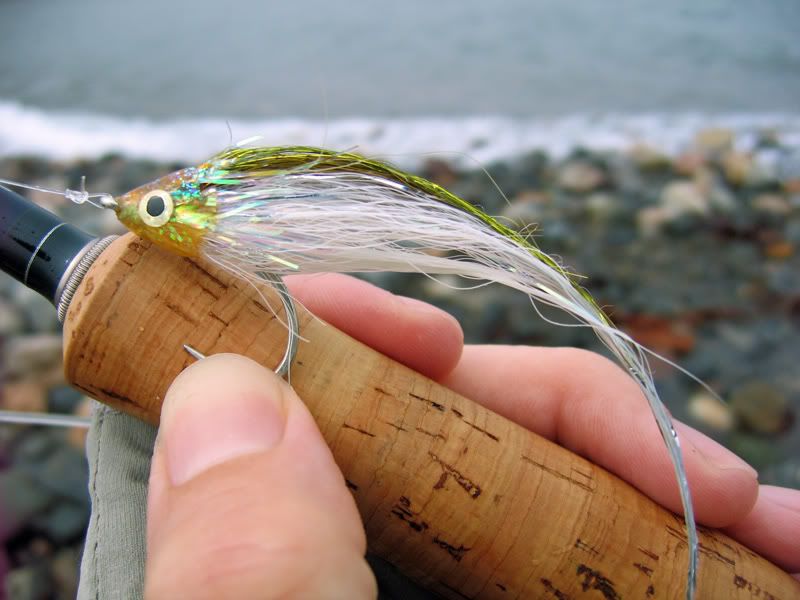 I just got back from Boston. The trip was alot of fun-meeting old friends, catching up, fishing with new and old rods, re-visiting old spots, trying new flies... I enjoyed the fishing, even though the weather was not cooperating at all, and the catching was poor. An old fisherman I met at one of the regular spots said to me: "You can't catch them when they are not here." He continued to talk about the spiraling down depletion of striper stocks on the East Coast. Perhaps there is a lot of truth in that, since I saw no bait, even in areas where you could scrounge a schoolie on the slowest of days some years ago. However, moments I spent fishing were precious to me, since they revoked memories of the past days when I fished the harbor with extreme intensity. I live half a country away right now, and fish much less often, especially for stripers.
The Batson switch for #8 line is a fine rod, perhaps more suited for freshwater situations. I would say it is a bit on the slow side, comparing it to what I like for ocean fishing. Rio Outbound #8 is a good match for my taste with this rod, since I like to feel the loop. Outbound #9 would be a better compromise for both overhead and spey casting. For windy surf I opted for stronger single handed #9, which punches through the wind better. I do think that a dedicated surf double handed rod with fast action/quick recovery (
Beulah
rods come to mind) is the key for surf conditions. However, most switch rods are designed for steelhead fishing: passable but sometimes not the best option for coastal environment.
Even though the water felt deserted, I had some great bird watching moments: a flock of Manx Shearwaters off the Revere Beach, two Wilson's Storm petrels off the Point of Pines, and observing the colony of Least Terns on the Winthrop beach was a
special treat
.