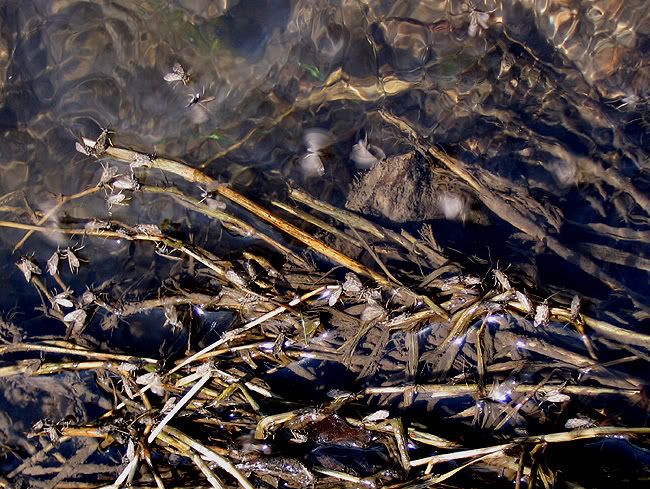 After the weekend snow flurries, today was the first nice day this week... and I was lucky to be able to spend several hours on the prime SE MN spring creek. Amy joined me for the trip, but
decided not to fish, since the wind was blowing in 20-30mph gusts.
The stream was slightly high and little off-colored, but nothing too bad... We arrived around 11:30am, just in time for the caddis hatch. The first rises indicated fish taking emerging pupae, right under the surface. I love this type of fishing, since I can use soft hackles in combination with my glass rod, to swing them or fish them upstream, dead drifted or sometimes with subtle twitches. Very soon the fish were boiling everywhere... This particular stretch has nicely manicured banks, so I just grabbed my wellington boots and started casting. Fish would usually take the fly savagely. At moments there were so many naturals on the surface, that it would take several repeated drifts to get a trout. I switched to a bigger fly, one size larger (a soft hackle with bright green biot body, speckled brown hackle, and ostrich head), and noticed that bigger fish would often grab it.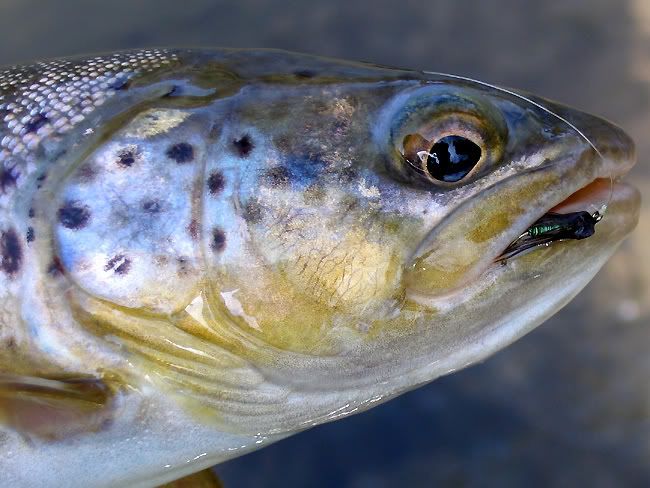 Little later I put the waders on and explored some corners where I previously noticed swirls of larger fish-spots which weren't reachable from the shore. Towards the end, the emergence ceased and fish would still take fluttering adults on the surface. I ended the day with several fish caught on dries in a narrow fast flowing side channel, under the low-hanging branch. None of the fish caught today went over 13", but the numbers made up for the size... Two consecutive casts would often produce either a take or a miss.
I was trying to identify today's caddis and compared the photos at troutnut.com. SE MN hatch chart lists two common early dark caddis species: Cheumatopsyche sp. and Chimarra sp. As you can see from my photos, insects are definitely not completely black, but have dun/brown wings. My best guess would be the first of the two species-Cheumatopsyche sp. (Little Sister Sedge.)