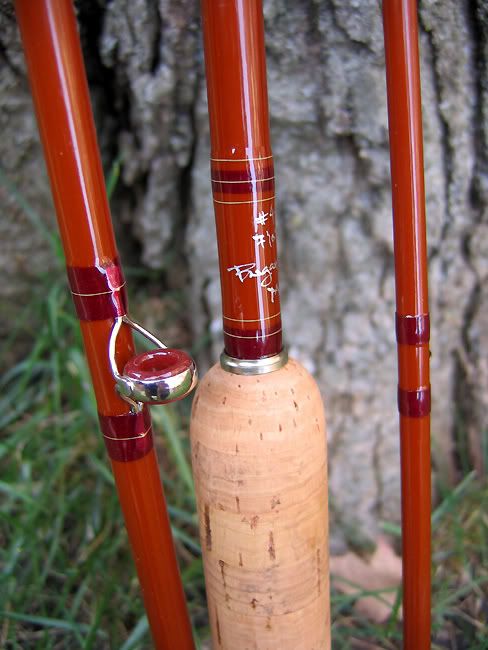 I have just finished a couple of new rods.
The first one is another vintage Lamiglas (dark brown usanded blank). It is a strong, 7'6" 5 piece rod, which works best with lines 6, 7 or 8. I built this rod mostly for warmwater fishing. It is a bit too powerful for trout fishing around here.
I turned a Ritz grip, and used a Pac Bay (Powell style) metal seat, partially inleted. The short 1/2" fighting butt is made of decorative cork, as well as the first ring of the grip. For the stripper, I used the vintage agatine guide in red/orange color.
The second rod is built on McFarland Dry Fly Taper E-glass blank. It is a 7'10" #4 in a 4 piece version. The blank color is dark amber brown ("flamed cane"), with white spigots. I used the Struble D-8 seat with myrtle insert, and I turned the straight Garrison grip. The vintage agate guide has a plum stone, and I used the Snake brand snake guides on this rod. I also experimented with ferrule plugs of wood and cork I turned on my hobby lathe-they work just fine! Pictured below is the rod with Edgar Sealey Flylyte reel (by J.W. Young) from 1965.